GENI in the Education
Schedule
Tuesday 10.30am - 12.30pm
Session Leaders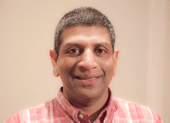 Vic Thomas
GENI Project Office
Agenda / Details
Introductory comments - Vic (5 mins)
GENI as a remote virtual lab
instructor resources including training opportunities
mailing list for GENI educators
Instructor resources (courseware) (3 speakers, 12 mins each):
Classroom as a service MOOCs (how they may be used in the classroom in addition to the community)
Mike: GENI-based courseware (12 mins)
Jay: GENI-based courseware (12 mins)
Benefits: Use as exercises or as supplementary material to lectures, complete package: instructions, instructor guide, videos
Instructor experiences: (4 speakers, 15 mins each)
Bruce Hartpence. Experiences with classes that are more IT networking oriented than traditional CS networking classes. Slides: pdf​ ppt​
Fraida Fund. DARPA Spectrum Challenge based class assignment
Discussion:
Suggestions for course material
New GENI functionality that will make life easier for instructors/students
Others...including topics that come up at the session.
Pre-Requisites
None