GEC 18 Evening Demo Session
Location
Schedule
Sunday October 27, 2013
Session Leaders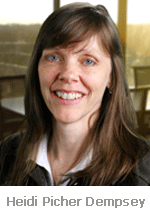 Heidi Picher Dempsey
GENI Project Office
Details
The evening demo session gives new and existing GENI experimenters and projects a chance to share their work in a live network environment. Demonstrations run for the entire length of the session, with teams on hand to answer questions and collaborate. This page lists scheduled demonstrations categorized in broad interest groups.
Directions and Logistics
Please visit Directions and Logistics for attendee and presenter logistics information.
Projects
GENI Infrastructure and Measurement Projects
ExoGENI / ORCA
Demonstrate latest capabilities of ExoGENI: storage slivering, any-to-any VLAN connectivity across the world between racks using multiple providers, multipoint connectivity across multiple providers.
Participants:
Ilya Baldin, RENCI, Ilia Baldine
Security and Data Exchange Projects
Experiments and Education
MU-OSU Science DMZ
We will be presenting a demo experiment/poster for the double-ended Science DMZ infrastructure between University of Missouri-Columbia and The Ohio State University. The demo will showcase how networking policies across campuses can be securely enforced and managed when enabling accelerated long-distance data transfers for domain science collaboration use cases.
Participants:
Wireless Projects
Federation / International Projects